Sintered Metal Powder Porous Filter Elements: Tubular and Disc Filters

Hengmao offers two forms of sintered metal porous filter elements: tubular / pipe filters and disc screen filters. Metal porous cylindrical filters are available in diameters from 13.5 to 135mm, continuous lengths up to 1500mm, and with a full range of sinter bonded end caps including 222, 226, flanged, threaded, closed and finished. Used in melt processing of chemical fiber, petroleum, water treatment, chemical industry, electric power, pharmaceutics, machinery, metallurgy, ceramics, dispose of sewage, foodstuff and beverage, cosmetic etc. Filter media: Sintered metal porous powder.
Filter Media: Sintered Metal Porous Powder
Materials Applied:
1. stainless steel 304/304L/316/316L
2. Copper, brass
3. Monel wire, inconel
4. Titanium, special alloy steel hastelloy,etc. 
Features:
1.High mechanical strength with the ability to maintain a steady filter rating under high pressure
2.Easy to clean and repeated use
3.Good corrosion resistance, good heat resistance
4.Easy to fabricate
5.Long service life
Application:
Sintered powder porous filter cartridges are suitable for applications with high temperature and high differential pressure requirements. Although they are typically less permeable than the equivalent stainless steel sintered fibre product, they are extremely robust and suitable for use in the most demanding operating conditions.The Sintered Powder filter elements have wide range of materials, including stainless steel, titanium, nickel, bronze, Inconel, Monel and Hastelloy.
Industries Served:
1. Food and beverage industry.
2. Chemical and pharmaceutical industry (pharmaceutical products,plastic Recycling and Precision sieving of powders,etc.)
3. Petrochemical industry.
4. Water treatment system.
5. Aerospace industry.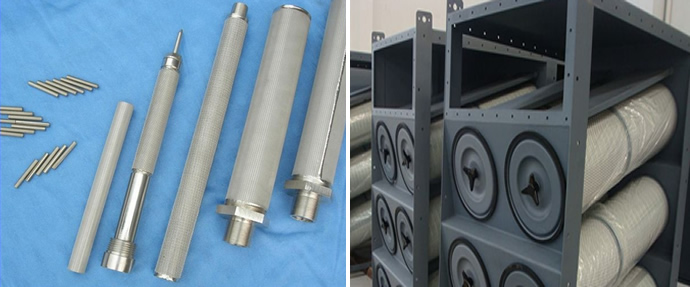 Sintered Metal Porous Tubular Filter Elements
Sintered Porous Pipe filter elements are widely used in chemical fiber, petroleum, chemical industry, electric power, pharmaceutics, machinery, metallurgy, ceramics, dispose of sewage, foodstuff and beverage, cosmetic etc.
Advantages:
1, High strength
2, No possibility of media migration
3, Wide operating temperature range
4, High dirt holding capacity
5, Excellent corrosion resistant
6, Pipe filter elements provide high flow rates at low pressure drops
Filtration rating(micron) of cylinder type filter elements:2,5,10,20,40,75,100
Any outline size is available at customer's requirement.

Stainless steel Sintered Porous Metal Filter Disc

316L Stainless steel Sintered Porous Metal Filter disc has the features of good permeability, big capacity, high strength, no bracket required, heat resistance, corrosion resistance, easy to clean, high filter rating, etc.
Characteristic:
1. The average filtration precision: 5-80 um;
2. Large flow, high filtration efficiency;
3. Good unity.
Filter Media - Stainless Steel Sintered Porous Metal Powder
Sintered stainless steel powder is normally formed by compressing a controlled blend of metal particles into their "green" state and sintering them in a controlled atmosphere furnace into a rigid media. The resultant medium is typically between 2-3 mm thick, ungraded through its thickness and has a fairly tight pore size distribution. During the initial compression of the medium, the high pressures gives rise to a smooth surface finish and high density media with a maximum void volume of around 50% This lowvoidage and high thickness leads to low permeability.
Titanium powder sintered filter cartridge/porous metal filter pipe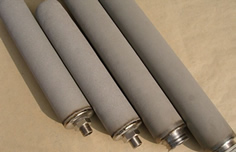 Micron sintered metal powder filter cartridge for liquid and gas pre-filtration. Suitable for high temperature and pressure conditions.

Titanium Powder Sintered Filters Features:
1. Washable
2. Mechanical strength
3. Metal structure and sintered at high temperature
High temperature and pressure resistant. Cartridges can work under extreme
high temperature and pressure conditions.
4. Wide chemical compatibility:
Cartridges can resist to strong acid, alkaline and Ozone Oxidation.
5. Long life: Cartridges can be backwashable and cleaned
by chemical solvent, hot water,steam
Typical Applications
Suitable for the extreme operating enviroments, steam filtration.
Pharmaceuticals:Prefiltraion and decarbonate filtration.
Food & Beverages:Viscous liquid with high temperature.
Fine Chemicals: Strong Acid and Alkaline filtration.
Water:Filtrate the O-zone containing water.
Cartridge Cleaning Methods:
* Pharmaceutical, Food & Beverage industries:
Hot water flush; Steam clean; Water Backwash
Brush clean; Compress air blow.
* Chemical Industry:
Chemical Solvent clean; Ultrasonic cleaning
High pressure water spray rinsing; Acid dipping.

Sintered Metal Powder Filter Specification:
Material Of Construction
Filter media
Titanium powder Sintered 
 
SUS316 powder Sintered
 
Nominal Micron
TI: 0.45um, 1um, 5um, 10um, 20um, 50um
 
STS: 1um, 5um, 10um, 20um, 50um
 
STP: 1um, 5um, 10um, 20um, 50um
Dimensions
Outer diameter
60mm/80mm
Length
10'' ,20'',30'',40''
filtration area(m2)
0.65m2 per 10''
pore size(um)
0.04,0.1,0.2,0.45,0.6
operating conditions
Max working temperature
Ti:220C
 
steel 316l:300C
Max differential pressure
4 bar
PH value compatibility
1-14
Typical application:
steam filtration
pharmaceutical industry
food and baverage
fine chemical
water