Pleated Filter Elements
Hengmao offers three types of pleated filter elements: Metal candle filters, PP pleated micron membrane filter elements for water treatment, glass fiber pleated oil filters.
Pleated Oil Filters with Glass Fiber Filter Media

Oil Filter Element designed with metal support tube, metal support mesh and glass fiber filter media.
The optimized pleated filter element design is used in liquid filtration, including lube, transmission, hydraulic and fuel application.
This filter element has multi folded filter layer, increasing filter area and high structure strength.
1.End cap: made of zinc-plated metal material.
2.Support tube: made of carbon steel with many filter holes
3.Support mesh: Ultrafine metal wire mesh
4.Filtration material: superior glass fiber
5.Fitration rating: 3~200 micron (1 micron on request)
6. Structural strength: 1.0 MPa,2.0 MPa ,16.0MPa ,21.0MPa
7.Tempereture renge: -30℃ to +℃ 100 for FPM seal material to -10℃
0℃ to +100℃ for water absorbing filter material
Features

1.Conventional fan-pleat filter element avoids unused volume
2.The laid-over pleat geometry of filter elements maximizes available area and ensures uniform flow distribution throush the filter element.
3.High strength construction(optional)
4.Extended filter element serviced life (same space envelope )
5.Consistent performance throughout filter element service life

Oil Filter Element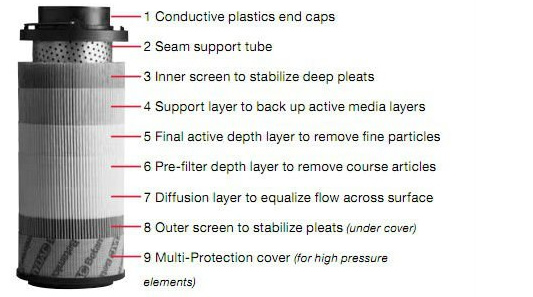 Metal Mesh Pleated Candle Filters
With pleated wire mesh or sintered fiber web as filtering materials, Metal Structure Pleated Filter Elements mainly serve in filtration of high molecular polymer, long fiber, short fiber, meltdown in thin film production, also drugs, hydraulic oil, disposal of water, hot gas, etc.


PP Pleated Micron Membrane Filter Elements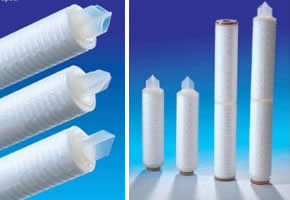 Material: polypropylene fiber membrane
Length: 5 - 50 inch
Pore size: 0.1/ 0.2/ 0.45/ 0.65/ 1/ 3/ 5/ 10/ 20/ 30/ 50/ 60 micron
Filter cage: polypropylene
Layer support: polypropylene
Filter end caps: DOE, SOE, customized
Outer diameter: 69mm

Typical Applications:
-- Electronic industry
-- Food industry
-- Chemical industry
-- Pharmaceutical industry

Membrane filter cartridge in water treatment field
-- Drinking waste water treatment
-- Waste water treatment, daily waste water treatment, oily waste water treatment, food industry waste water treatment, electroplating waste water treatment, papermaking wastewater treatment
-- Desalination
Cartridge Type
Micron Ratings
Filter Media
Length
Gasket/O-ring
End Cap
PPMP: PP Membrane Pleated Filter Cartridge
0.1:0.1μm
P: Polypropylene
5: 5"
S: Silicone
A: Flat Gasket Double Open End
0.22:0.22μm
10:10"
E: EPDM
B: 222 O-ring with Flat End
0.45:0.45μm
20:20"
N:NBR
C: 226 O-ring with Flat End
0.65:0.65μm
30:30"
V: Viton
D: 222 O-ring with Fin
1:1μm
40:40"
 
E: 226 O-ring with Fin
3:3μm
50: 50''
 
 
5:5μm
 
 
Other Customized
Sizes
10:10μm
 
 
20:20um
 
 
30:30μm
 
 
60:60μm