Pressure Polymer Melt Filter Elements for Spinning Segments
Melt Spinning Filter Elements are also known as Pressure Filter, or segment filter elements, mainly applied for polymer melt spinning segments of plastic industries. Also used in high viscosity polymer processing for making fiber, film and resin products.

Forms of spinning segment filters include Pleated Leaf Filters and Spin Pack Screen.


Melt Spinning Filter Cartridge with Pleated Filter Leaf


The filter media are metal mesh or sintered fiber membrane for folding deep filtration. Metal mesh leaf filter elements offer the following features which make it suitable for pressure filtration of polyester and chemical fiber spinning production.
Main Features:
Large filtration area (5-10 times as common cartridge);
High filter precision (1~300um) : from 1, 3, 6, 12, 25…… μm Filtration ratio: X≥100;
High Strength and Working Pressure: 1.0Mpa, 2.0Mpa, 16.0Mpa, 21.0Mpa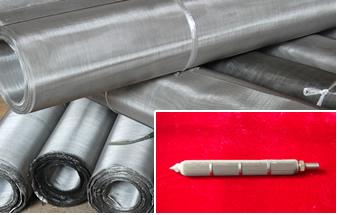 Pressure Leaf Filter made of fine woven wire mesh is usually used where the fluid enters and/or leaves a container or component. Aperture of the wire meshes varies with the particular filter element while the wire mesh filter element removes normally only the larger particles of contamination from the fluid.
Filter Spin Pack Screen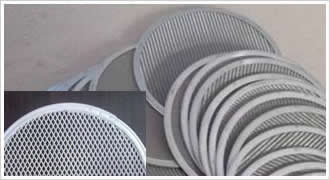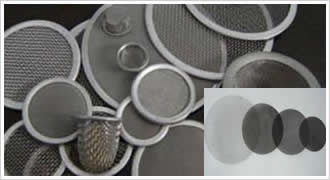 Disc filter and Pack Screen applies to film and packaging materials, plastic extruding and rubber industry.
Layers: can be single layer,two layers,or multi layers
Rim/edge: With ss, aluminum, copper edge or without edge,with gap or not
Bonding: Spot welded or with rim

Filter Media Choices:
Woven wire mesh cloth or Sintered Mesh Sheet

Woven Wire Mesh:
Plain woven wire mesh, twill woven wire mesh or dutch weave wire mesh; can be folded or not
Mesh material can be ss mesh, copper mesh, Ni alloy mesh.

The filter packs are ususlly made of fine mesh for filtration and coarse mesh to support.

Features:
Multi-layer Wove Mesh Spin Pack Filter has a rating range
from 5 to 200micron, in a diameter for 10mm to 3000mm.

Multilayer Sintered Wire Cloth Sheet:
as filter medium,enjoy good strength, accurate filter rating,long-span and repeatedly cleaning.
Forms of Spin Pack Screens:
1.Round Shaped Packs: Diameter 25 to 600 mm(or as customized)
2.Toroidal Shaped: Inner diameter 18 mm to 250mm
Outer diameter 50mm to 350mm
3.Rectangular Shaped: width 30mm to 100mm,length 60mm to 400mm(or as customized)
4.Slitting Belt: the minimum width 30mm
5.Cylinder Shaped:inner diameter from 8mm to 600mm
6.Square Shaped,Oval Shaped,other type filter