Perforated Tube Sand Control Screen
Perforated Tube ( Punched Tubing) can be used for vertical wells, the inclined shaft, horizontal wells and various gas, oil and water well screen, as anti-sand filter blocks. Also popularly used as support pipe / tube and protective pipe for pleated wire mesh filter elements processing.

Sand Control Filter Tube/ Casing Pipe for Water Well Screen
Perforated Tubes / pipes can be used for vertical wells, the inclined shaft, horizontal wells and various gas, oil and water wells. Can be used individually as sand control tube, also can be used together with filling. Hengmao offers two types of perforated tubes for sand control in well screen development. One is bridge slotted tube, the other is perforated round hole welded tube.

Bridge Slotted Perforated Tube has openings arranged in rows are staggered to reduce the negative effect on the screen's strength. Regarded as the best choice of well tube filter, bridge slotted pipe screens are widely applied in oil well and water well drilling fields in the developed countries,whichis Russia, Iraq, Algeria, India,South Africa ,ect.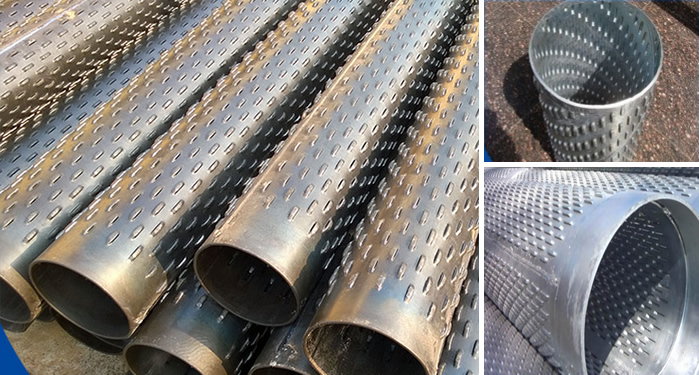 Specification of Slotted Brige Casing Pipe
Diameter (mm)
146
159
219
273
325
377
426
529
ID
130
140
138
200
198
254
250
246
305
300
297
357
350
346
406
400
398
502
500
498
Thickness
5
5
6
5
6
5
6
8
5
6
8
5
6
8
5
6
8
6
7
8
Coupling OD
146
160
162
220
226
274
278
278
325
328
329
377
378
379
426
428
432
529
530
531

Perforated Round Hole Stainless Steel Sand Control Screen, Pipe Type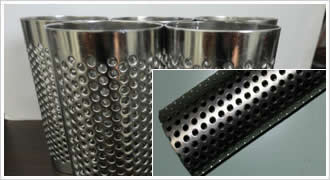 From the inside to the outside, the sand control screen is made with the composite sand filtration kits, stainless steel protection kits and other components. The basic tube is API casing or tubing, sand control filters are stainless steel precision porous filter composite materials, made of the whole welded structure. Because of high penetration, high-intensity, high resistance to deformation, high reliability, good corrosion resistance, this sand control screen has excellent performance property. It is the result of a highly effective new technology in mechanical sand control.

Hengmao offers perforated filter tubes for oil field: Oil well sand control screen (anti-sand filter blocks), spiral welded stainless steel filter tube (spiral welded pipe), straight seam welded stainless steel filter tubes.
Perforated straight line pipes are welded with unique spiral distribution formed by spiral welding and greater filter strength. When squeezed in some parts from external, under outside pressure, the forced part will have reduced or closed gap and ensures the reliability of sand control. Made with sophisticated technology, stainless steel filter glove has openings in the side with reduced direct corrosion to the perforated welded sand pipe. Seam gap in the processing ranges between 20 mm-0.7mm. The uniform opening ensures the processing difference is within the error scope allowed - 0.015 mm, also ensures the accuracy of its filter requirements. Using high precision perforating technology, the effective slotting length is the three to five times of common cut seam tube and two to three times of common perforated seam tubes.
Filter Center Tube has unique high precision perforated tube with standard oil and glove tubes. The spiral perforating form of the center tube reduces the opening area of the tube cross section and maintains the strength of the center tube to the maximum. The sand is blocked outside of the perforated screen while the oil, gas or water goes through the perforated opening then enters into the screen.
Features:
Center control tube is API standard tube or oil tube and the high precision perforated filter glove is made of 304 stainless steel materials.
For wells containing H2S, CO2, high-Cl that has special requirements, the center tube can be corrosion-resistant casing or tubing. Screen is acid and alkali resistant and salt corrosion resistant.
Compound Grading Sand Control Screen has adopted unique grade sand control with the surface filter and deep filter combined together to form a double precision. This is the new breakthroughs in the field of mechanical sand control designs. Offering high penetration, high Strength, highly resistant to deformation, high reliability, good corrosion resistance, this is the most effective sand control products at this time.
Perforated Sand Control Tube Specifications:
Pipe Size
Holes per feet
Size of hole
Perforated Area per Feet
3/4"
78
3/16"
2.15
1"
54
5/16"
4.14
1-1/4"
66
5/16"
5.06
1-1/2"
78
5/16"
5.98
2-1/16"
78
5/16"
5.98
2-3/8"
90
3/8"
9.94
2-7/8"
102
3/8"
11.26
3-1/2"
126
3/8"
13.91
4"
138
3/8"
15.24
4-1/2"
150
3/8"
16.56
5"
162
3/8"
17.88
5-1/2"
174
3/8"
19.21
6-5/8"
186
3/8"
20.53
7"
222
3/8"
24.51
9-5/8"
294
3/8"
32.46
Also Supply: Stainless Steel Perforated Tube for Candle Filter Elements Support Layer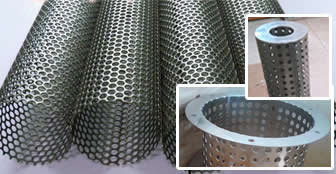 HengMao can offer perforated metal with various patterns.
Custom designs available. Precise parameters guaranteed.
Hole Patterns including: Round; Rectangular hole; Square; Triangle; Diamond; Hexagonal; Cross; Slotted; and other patterns according to your drawings or application requirement.

Perforated metal tube is widely used as the core filter tube, interior support, out layer protection in making of stainless steel pleated filter elements. Perforated metal sheet can also be processed into disc filters or filter baskets.