Stainless Steel Wire Mesh Belt Filter Screen

Reverse dutch twill weave wire mesh filter screen specially for screen changers, parts of plastic extruders. Also known as Belt or Ribbon extruder screen. Melt filter ribbons. High tensile strength ss 304 and 316 grade wire mesh screen.
Hengmao offers belt or ribbon type stainless steel wire mesh filter screen for plastic extrusion in replacement of conventional extruder screen packs. The woven mesh screen is Reverse Dutch Twill Weave Wire Mesh supplied in belt or ribbon type or band. Woven from quality SUS304 or 316 grade stainless steel fine wire. Designed to work with automatic contionuous screen changers used on plastic extruder.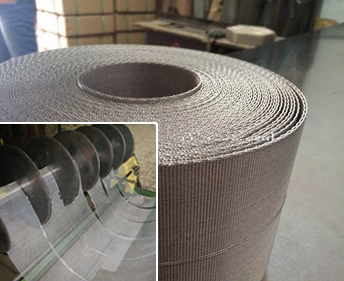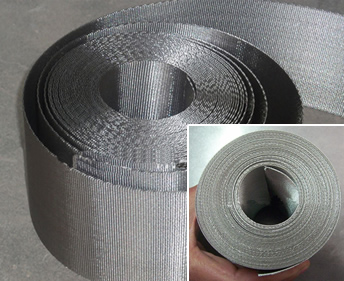 Three Reasons Making Reverse Dutch Twill Weave Mesh Belt Suitable for the Screen Changers:
First, Stainless Steel Materials:
The mesh belt or ribbon is made of quality stainless steel wire materials, offering the following features:
Anti-corrosive, anti-abrasive;
Presition mesh opening;
Smooth surface;
High hardness;
No deformation;
High temperature resistent.
Second, Weaving Style Ensures High Tensile Strength and Precision Filtration:
Reverse Dutch weave wire cloth is woven using two sizes of wire. Smaller wires are used in the warp direction and are woven with a larger shute wire. The smaller wires are woven tightly together, providing a tight mesh for filtering. The larger wire provides strength to the mesh. High Tensile Warp wire ensures high tensile mesh strength suitable for Auto-Screen changers used in the Plastic Extrusion Industry.
Filter ribbons are supplied in rolls with custom or standard length for various screen changers. The wire mesh filter belt is equivalent to several hundred screen packs in a conventional screen changer in plastic processing.
Third, Belt Size and Edge Treatment Ensures Efficient Working with Auto Continuous Screen Changers:
Filter belts can be used with all screen changers, and can be supplied in non-standard widths and lengths to suit the customer's needs. Popular aperture covers: 72*15, 132*17, 152*24, 152*30, 260*40, 200*40, 300*40 mesh or custom according to specific requirements. The mesh ribbon width ranges from 8 cm to 25 cm to maximum 130 cm. Filter ribbon length ranges from 10m to 20 m or custom size to suit the screen changers.
Common edge or plasma weld edged. Rubbed Edges after slitting to help with tracking for Auto-Screen changers.
Plasma and laser cut parts to help prevent edges wire fraying.
Hengmao Reverse Dutch Weave Mesh Belt for the automatic, continuous screen changers are used for polymer melt filtration in every segment of plastics processing including: blown film, blow molding, sheet and film extrusion, filaments & fibers, pipe and profile, pelletizing.
Standard Specifiction: 48x10 mesh RDPW 400 nominal micron
72x15 mesh RDTW 250 nominal micron
132x16 mesh RDTW 200 nominal micron
152x30 mesh RDTW 115 nominal micron
250x40 mesh RDTW 75 nominal micron

| | | |
| --- | --- | --- |
| Specification (mesh) | Belt Width | Belt Length |
| 16×120 | 7cm--21cm | 10m/15m |
| 16×150 | 7cm--21cm | 10m/15m |
| 18×120 | 9.5cm--21cm | 10m/15m |
| 38×200 | 9.5cm--21cm | 10m/15m |
| 38×220 | 9.5cm--21cm | 10m/15m |
| 38×240 | 9.5cm--21cm | 10m/15m |
| 38×250 | 9.5cm--21cm | 10m/15m |
| 38×260 | 9.5cm--21cm | 10m/15m |
| 38×350 | 9.5cm--21cm | 10m/15m |
Popular Products: PP/ABS/PS/plastic Extruder Filter Wire Mesh Ribbon
Material: AISI 304,304L,316,316L.
Application: Used in ribbon style continuous screen changers for plastic extrusion,melt filtration.
PP/ABS/PS/plastic extruder filter wire mesh screen: Mesh: 72/15,132/17,152/24,152/30,260/40,etc.
Roll width : 40 - 210mm, Max width: 50cm
Roll length: 10 - 20 m (Can be customized)
Specification Table of PP/ABS/PS/plastic extruder screen filter ribbon: Can be customized.
Mesh Count
Wire Diameter (mm)
Mesh Thickness (mm)
Warp
Weft
Warp
Weft
72
15
0.45
0.55
1.75
120
15
0.35
0.45
1.25
132
17
0.32
0.45
1.20
150
17
0.30
0.45
1.20
152
24
0.27
0.40
1.05
152
30
0.25
0.30
1.00
170
17
0.27
0.25
1.17
260
40
0.15
0.25
0.65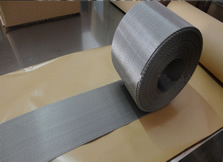 Features: Flexible with excellent filtration performance and good load strength.
Application:
Suitable for plastic wire drawing machine, stretch film machine, coating machine filters, such as plastic woven bag, plastic film.
Used for plastic recycling filter, otherwise wafer type, square type, single or multi-layer molding machine filter.