Micron Woven Wire Mesh Available in Stainless Steel, Brass, Phosphor Bronze and Other Metal Alloys

Hengmao supplies Filter Cloth Grade Woven Wire Mesh as chief filter media. Mainly in stainless steel and other metals. The woven wire meshes are cut into circular filter discs, or welded into pack screens. Also be cut and pleated into mesh waves for manufacture of pleated filter elements as control layer. We also supply coarse opening wire mesh for making of pleated filter elements as support layers.

Forms of supply: cut pieces or mesh rolls in 30m( up to 200) long and in width of 36 48 1m 1.2m 1.5m 2.0m etc.
Stainless Steel Filter Cloth Grade Woven Wire Mesh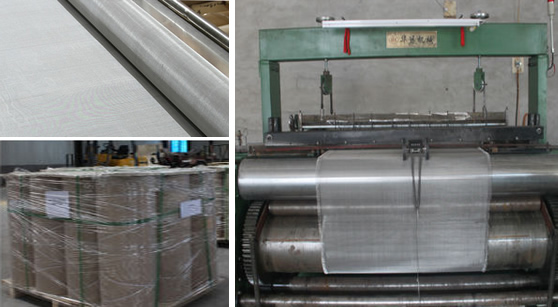 Material: We produce stainless steel wire mesh from first class stainless steel wire material in SUS/AISI 201 302  304 316 316L etc.
Weave: Plain Weave, Twill Weave; Plain Dutch Weave, Dutch Twill Weave.
Features and Uses : Stainless steel woven wire mesh with its excellent resistance against acid, alkali, heat and corrosion, find extensively uses in processing of oil, chemical, food, making wire mesh filter, also sorting and screening of solid, liquid and gas in mine, metallurgy, airspace and machine making etc.
Packing: water-proof paper ,woven bag and also can be made as per client requirement.

Specification of Stainless Steel Filter Wire Mesh Plain Weave:
| | | |
| --- | --- | --- |
| Mesh/Inch | Wire Gauge(SWG) | Aperture in mm |
| 3mesh x 3mesh | 14 | 6.27 |
| 4mesh x 4mesh | 16 | 4.27 |
| 5mesh x 5mesh | 18 | 3.86 |
| 6mesh x 6mesh | 18 | 3.04 |
| 8mesh x 8mesh | 20 | 2.26 |
| 10mesh x 10mesh | 20 | 1.63 |
| 20mesh x 20mesh | 30 | 0.95 |
| 30mesh x 30mesh | 34 | 0.61 |
| 50mesh x 50mesh | 38 | 0.36 |
| 60mesh x 60mesh | 40 | 0.30 |
| 80mesh x 80mesh | 42 | 0.21 |
| 120mesh x 120mesh | 44 | 0.13 |
| 150mesh x 150mesh | 46 | 0.108 |
| 160mesh x 160mesh | 46 | 0.097 |
| 180mesh x 180mesh | 47 | 0.09 |
| 250mesh x 250mesh | 48 | 0.061 |
| 280mesh x 280mesh | 49 | 0.060 |
| 300mesh x 300mesh | 49 | 0.054 |
| 350mesh x 350mesh | 49 | 0.042 |
| 400mesh x 400mesh | 50 | 0.0385 |

Dutch woven wire mesh
Weaving:Plain Dutch, Twill Dutch
Diameter: 0.035mm-2mm
Material: Stainless steel wire
Dutch Plain (XI-type network) Weave Wire Mesh
Model
Mesh
Diameter
Aperture (um)
40
10×64
0.55×0.42
260
50
12×75
0.45×0.35
220
80
24×110
0.35×0.25
160
100
25×140
0.28×0.20
100
120
30×150
0.25×0.18
80
140
35×180
0.20×0.16
70
160
40×200
0.18×0.13
60
180
45×220
0.16×0.12
56
200
50×250
0.15×0.11
50
240
60×300
0.14×0.09
45
260
65×320
0.13×0.08
36
280
70×400
0.125×0.07
34
300
80×700
0.11×0.039
32
 Processing of special specifications can be customized
Dutch Twill (I-type network) Weave Filter Cloth
Model
Mesh
Diameter
Aperture (um)
80II
20×250
0.28×0.2
38
120II
30×300
0.25×0.18
36
200II
50×500
0.14×0.11
34
320I
80×700
0.10×0.17
32
320II
80×780
0.10×0.07
30
360
90×780
0.10×0.07
25
400I
100×780
0.10×0.07
22
400II
100×900
0.10×0.063
20
500
120×1100
0.07×0.05
17
630
150×1400
0.063×0.04
16
650
165×1400
0.07×0.04
14
685
180×1800
0.063×0.032
13
795I
200×1400
0.07×0.04
12
795II
200×1800
0.05×0.032
10
850
210×1900
0.045×0.03
10
1000
250×2000
0.045×0.028
8
1125
280×2200
0.036×0.026
7
1200
300×2200
0.036×0.026
6
1280
325×2300
0.035×0.025
5
1600
400×2800
0.03×0.018
3
Processing of special specifications can be customized